Right. Blog.
So, part of my absence is not my fault. The stuff I really want to talk about is residency and my rank list and things that I really could not talk about until everyone's rank lists were in (2/25/09). That's not to say I couldn't have been blathering about other things to fill the time. Right.
Somehow, Brandon and I managed to figure out our program ranks in a way that has left us both pretty pleased. We find out where we match on March 19 (18 days! count 'em down!), and we're trying to focus on other things until then. But we're already kinda planning a little bit of a life in our #1 city. Not that we're getting our hopes up. Really.
It took me a while to come to peace with our decisions. The program we're ranking #1 is, um, posh. Really posh. So posh that it makes me maybe a little uncomfortable. There's a tiny bit of me that feels like a sell-out. But. It is remarkable training, and residency is something you only get to do once. And there's an attending I'm working with right now who trained at this hospital (different field), who is, well, quite posh. Fabulous outfits, perfect makeup, pointy shoes. But she also runs the clinic at the women's homeless shelter downtown and the HIV outreach programs. She is someone who trained posh, works in a posh institution, and is using that power (and money) to do a lot of good. She's got it both ways. Seeing that last week helped me feel more comfortable with my decision.
On a totally unrelated note (ahem), I went to Chicago two weeks ago with a two women from my knitting group. We had a ridiculous amount of fun. I may have spent an obscene amount on yarn, buttons, and paper goods. Traveling with fellow knitters is risky. It's been a while since I've gone on a trip with just women. We had so much fun we decided to try to do another trip, this time at a state park, to continue the excellent female bonding. I'm voting for Hocking Hills, the state park of my childhood (they have a zip line now...oooo....).
And, in an effort to keep with the pictures: knitting!
Here's that beret, now on my head instead of on the coffee table. I still feel kind of silly wearing a beret, but I like it.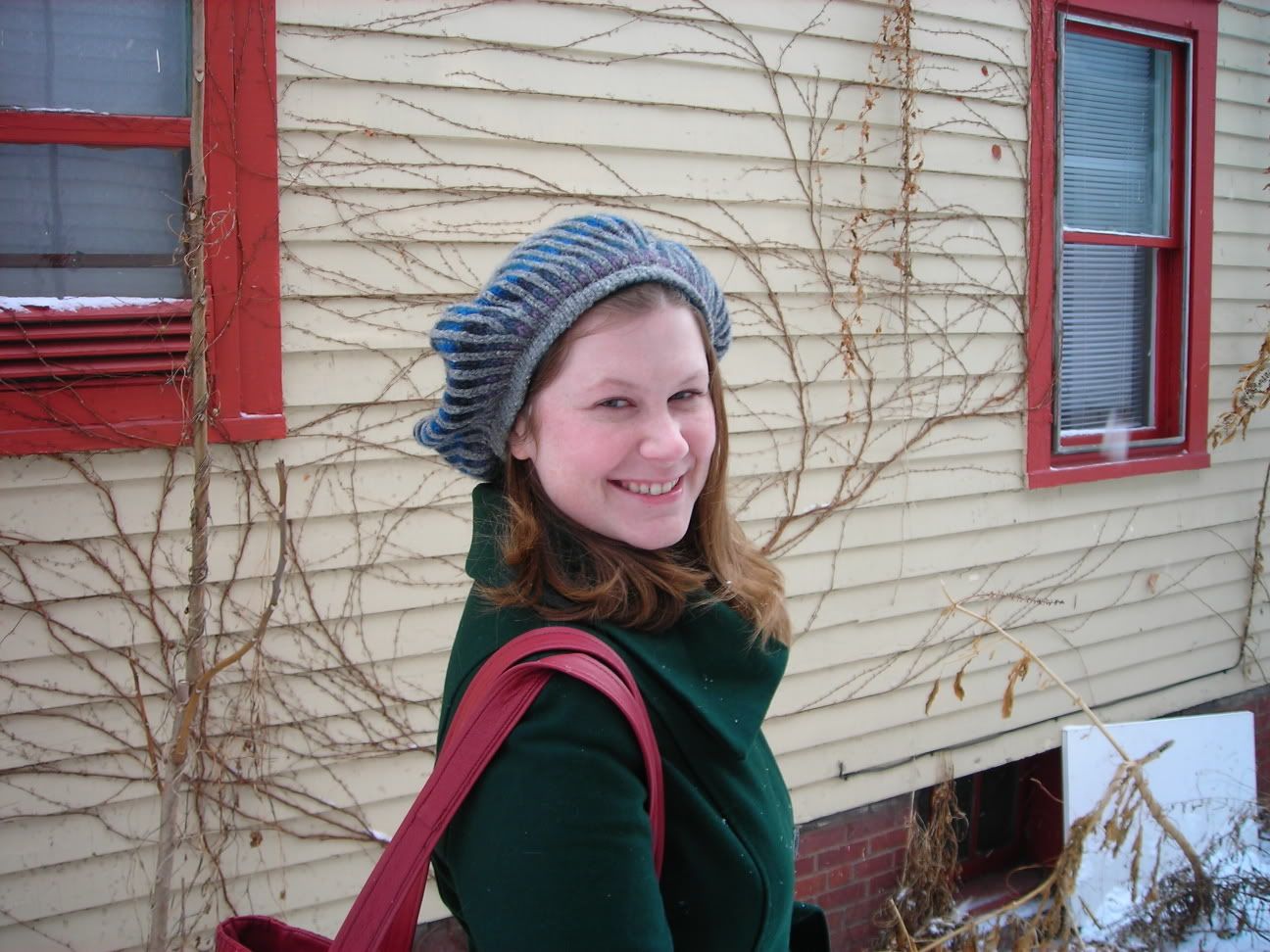 New FO! Delicato mitts from KnitSpot, knit on US1s with Knit Picks Gloss. I lost one of my Hurry Up Spring mitts, needed new mitts, knit these, and then found the mitt I'd lost. Right now, I love these best.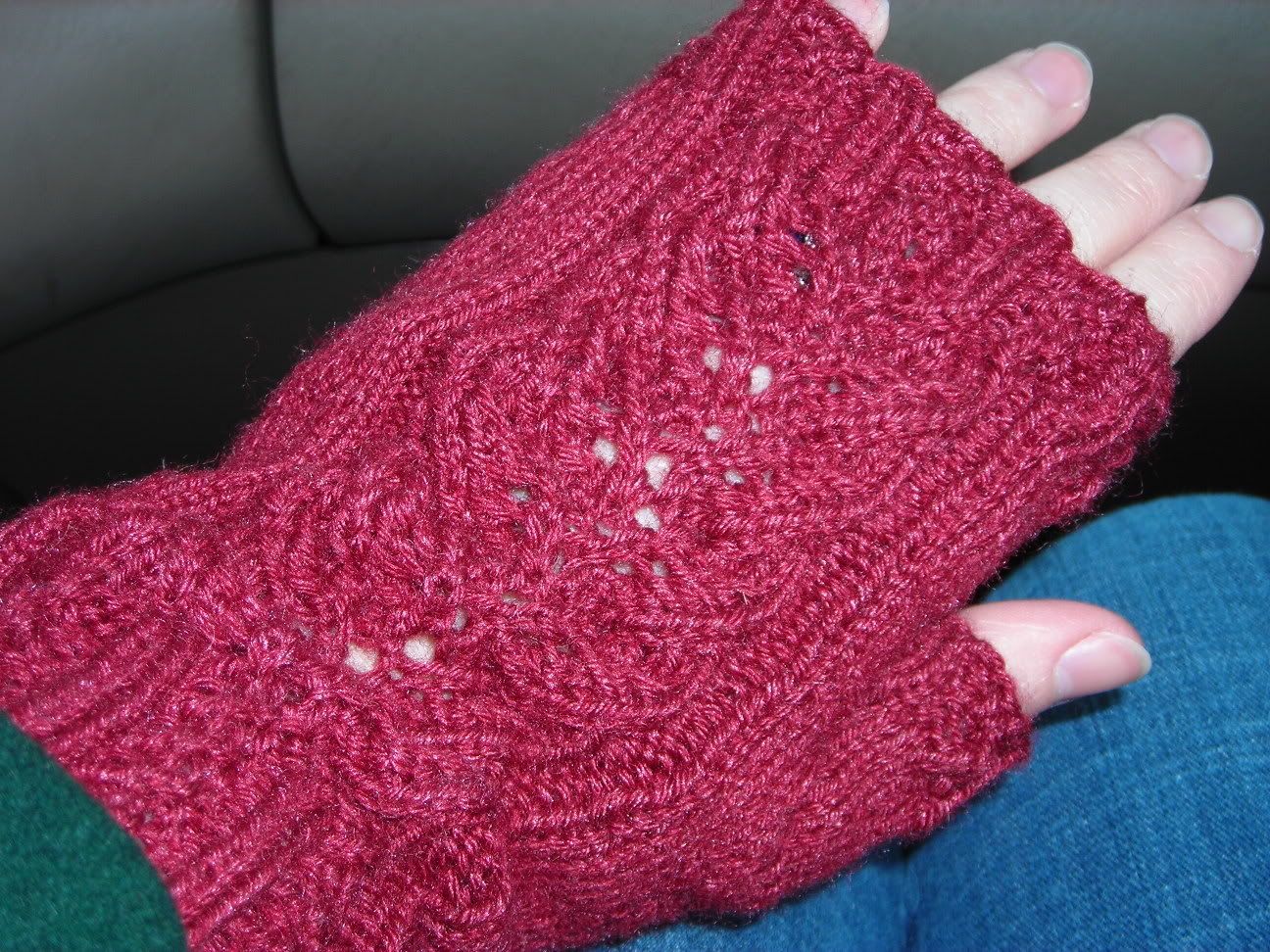 And this is a silly little box. It's just a bunch of odds and ends knit together and felted. It's one of those Felted Boxes from Mason-Dixon. Since it's a bunch of different yarns, it didn't exactly felt perfectly, but it holds things. Things like my keys and hospital ID. Functional.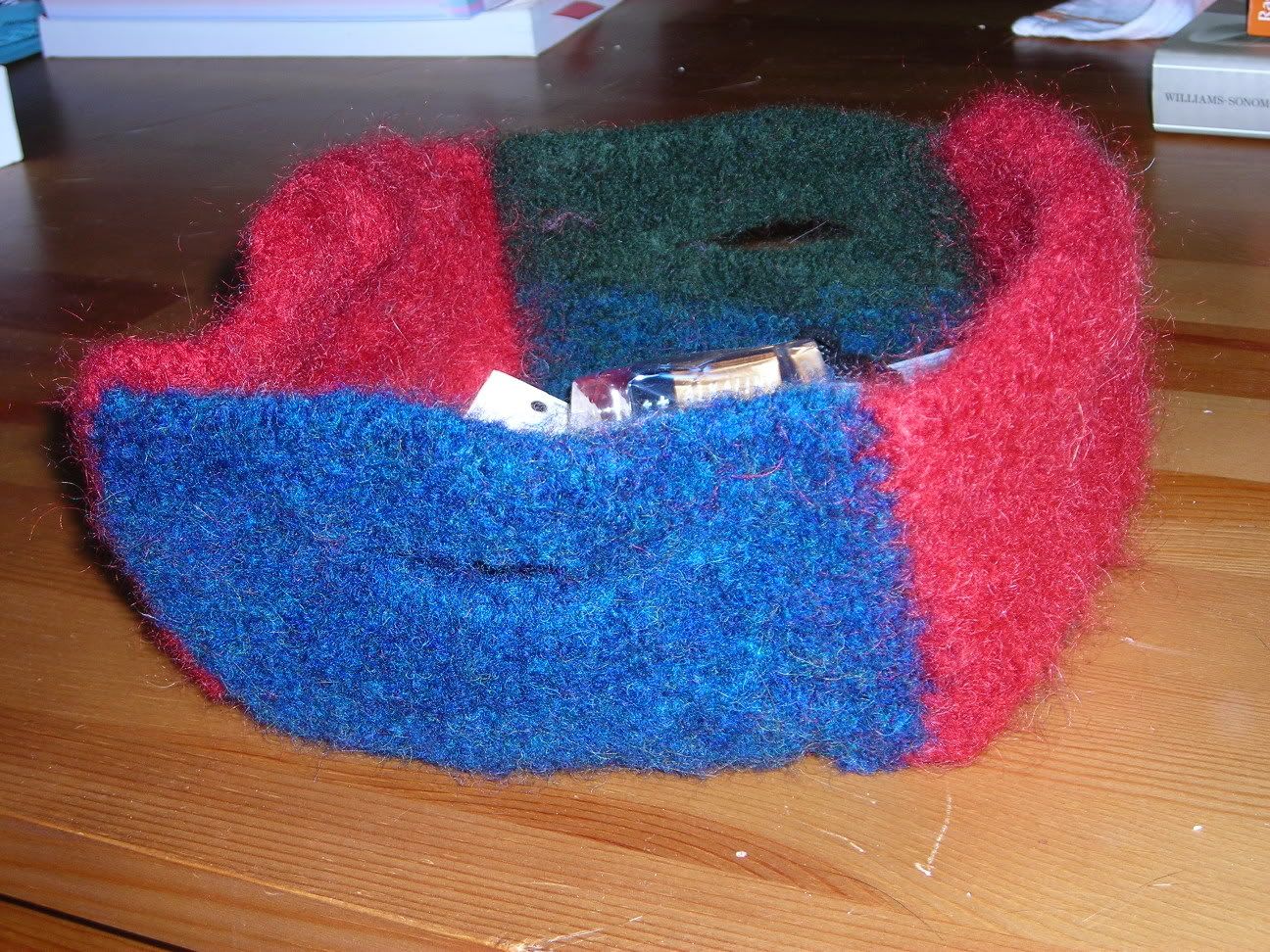 I'm almost done with the sleeves on Brandon's cardigan. And then blocking and sewing and the collar and the zipper. And then you know I'll make him model for you.