My first residency interview is in a very short 8 days. It's both exciting and terrifying. I think I'm ready. I need to think of a good, marketable weakness that isn't so cliche as "I work too hard" or "my standards are too high." (Internets? What are my marketable weaknesses?) My suits are clean, well-fitting, cute, and hemmed. I have a variety of shirts that say "Professional! But fun! And good at pelvic exams!"
And...I may have bought new shoes. Because I want to be tall but still have intact nerves in my feet at the end of the day.
Sofft
claims that they can accomplish both goals with arch support and cushy insoles. And, look! Cute!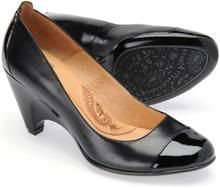 Did I really need new shoes? No, probably not. I could have just had my suits hemmed to work with flats. But then I wouldn't have had an excuse to buy new shoes.