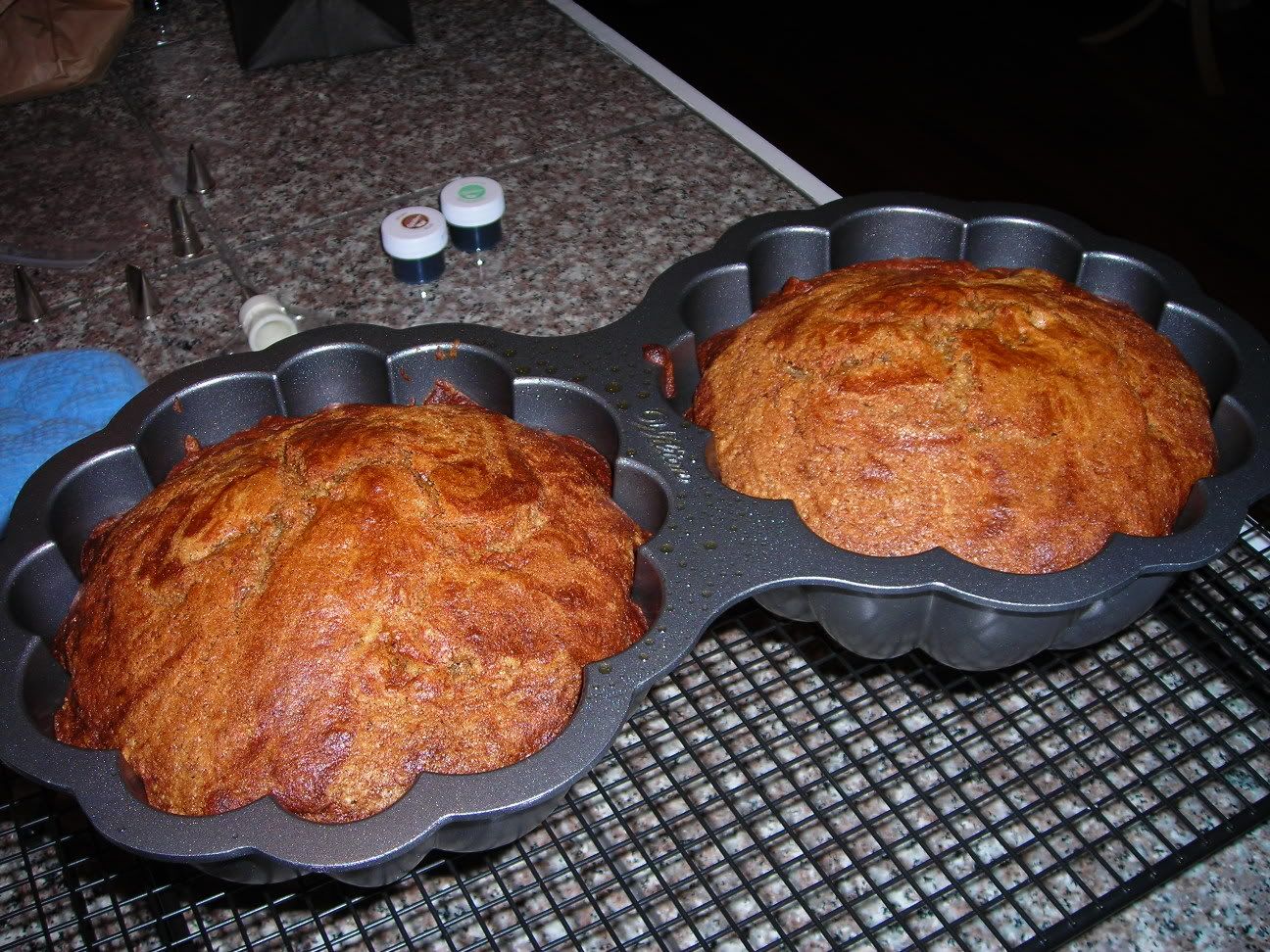 Although I have been knitting some, I haven't done much, what with the craziness in lab and all. Also, it continues to be that expanse of turquoise stockinette. Not so interesting. (And, speaking of lab craziness, the second antibody in nonspecific too! I am definitely not publishing...)
But. But. I have been making fun food. Not every night (sometimes I eat cheese and bread and a pear for dinner...shhhh), but some nights. A friend had a pumpkin themed party Friday night. A couple of months ago, B's mother gave me a pumpkin cake pan. You know, where one half is the top of a pumpkin and one half is the bottom and then you put them together?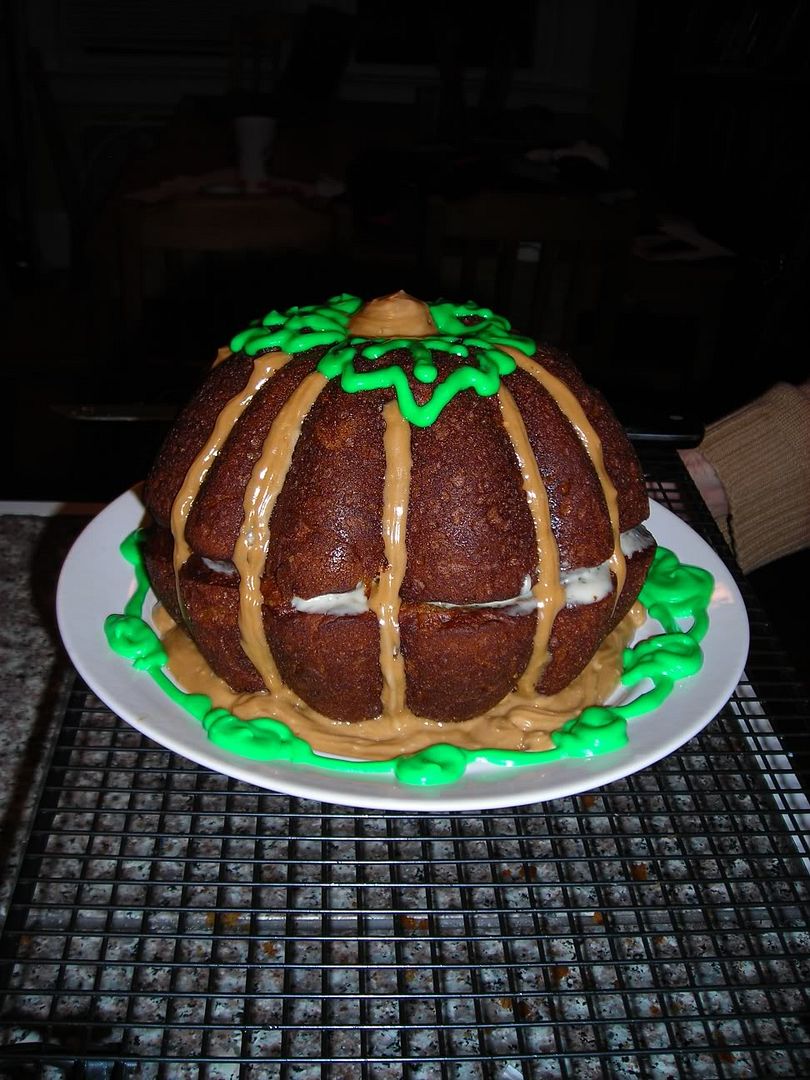 So, clearly, I had to make a pumpkin cake. Since the pan is so deep, I had to bake it longer than the recipe called for, and next time I'll dye the cream cheese frosting in the middle brown to better match the cake, but other than that it turned out well.
In other fun food news, B's dad bought us a pasta making class. There really is nothing like fresh pasta. Although some of the people in the class were a little grating (that's what you get for taking a weekday morning cooking class at an upscale mall....draw your own conclusions), the pasta was awesome. We made goat cheese tortellini, pumpkin ravioli, and tarragon fettuccine. And we ate it all for lunch. Of course, now I want a pasta machine, but if I actually had one I'd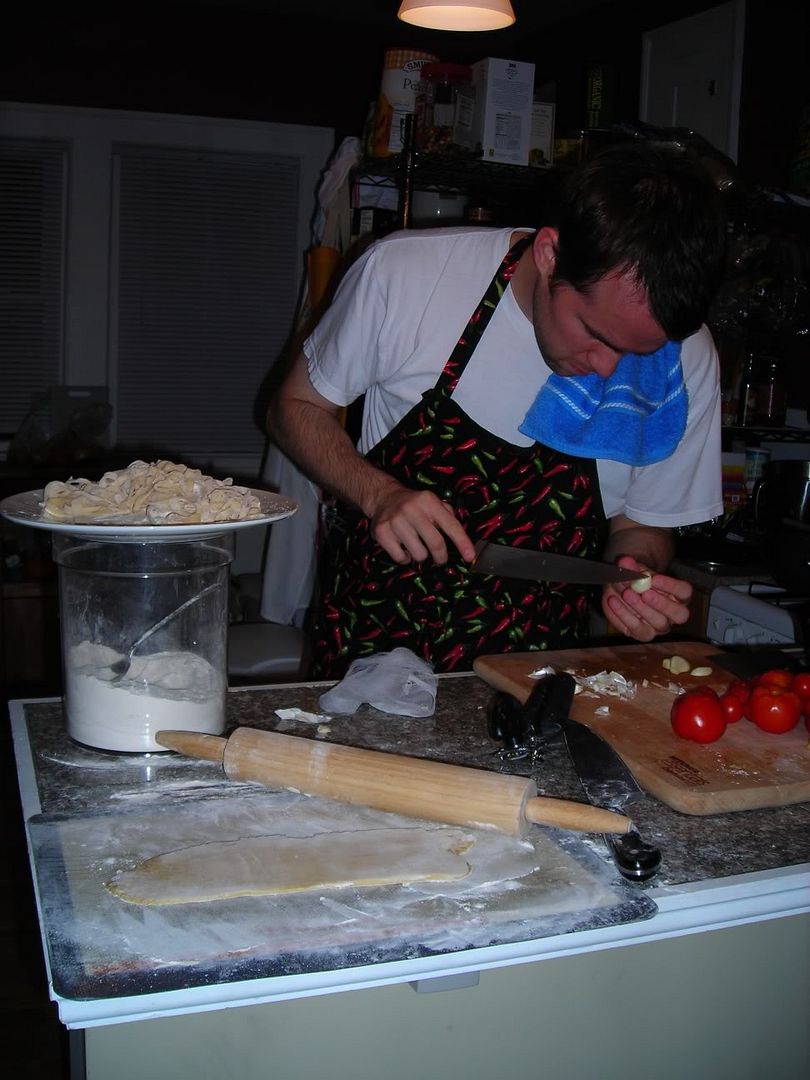 never use it. Besides, we did alright without one later that night. The chef/teacher sent B and I home with the extra dough. I'm not sure if he picked us because he liked us or because he was taking pity on the students. Either way, we practiced hand rolling and slicing fettuccine last night. B made sauce with tomatoes and herbs from our garden (and wine and veggie meatballs from Trader Joe's). It was delicious. Of course, now my last six meals have gone like this: bagel, pasta, pasta, bagel, pasta, Halloween candy. Hmmm... I think it's time for a salad.