This blog might be obnoxiously wedding-y for a while. You can't say I didn't warn you.
We got our pictures from the engagement shot we did in mid-March Minneapolis. It was the first warm(-ish) day, so I braved the short sleeved dress. There was still snow on the ground, but, eh, I'm a Minnesotan. I can handle it. I really like our photographer. She's unpretentious and willing to do some creative, offbeat shots.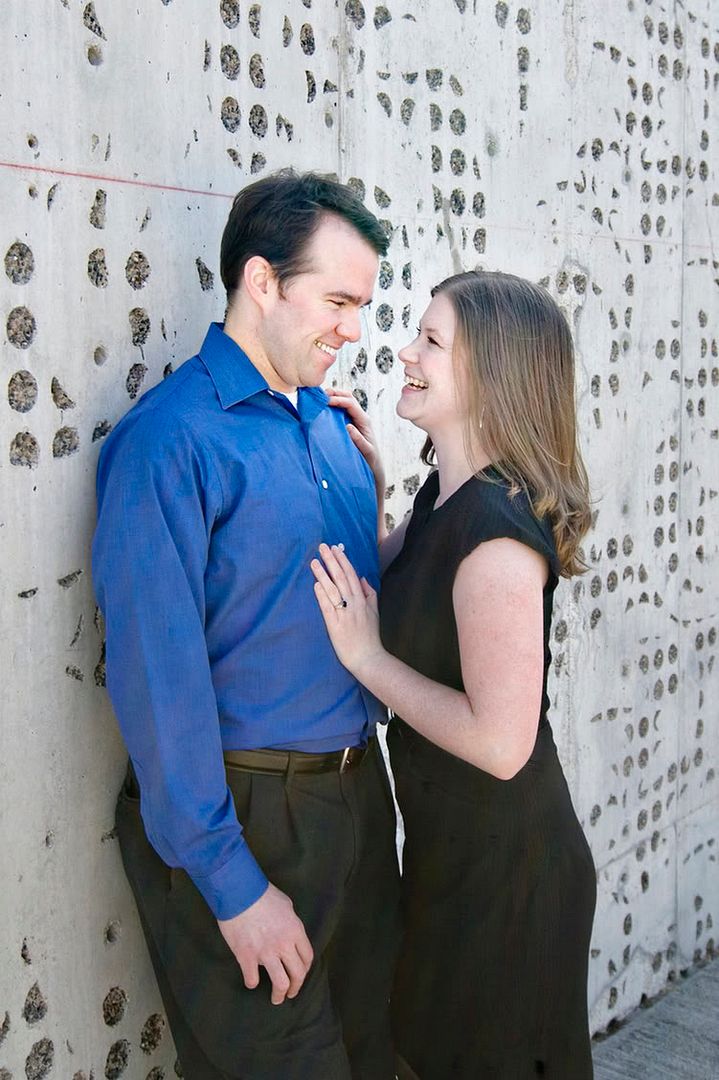 Today I finished drafting our menu cards, programs, and out of town guest brochures. They still need a few details that we haven't decided yet (i.e. song choices), but once we have that, I can print and cut and assemble! And getting those done will make me feel good for some reason. I like having tangible finished objects.
Also! I'm making jewelry for my bridesmaids, which is an awesome way to get tangible finished objects. Jewelry making is faster than stole knitting. By a long shot. I have 4/5 necklaces done and 0/5 pairs of earrings done. It takes me about 3.5 hours to do a necklace, because they're wire work and double stranded. Earrings will go much faster, so I'm definitely going to finish in time. I'll post pictures once I have a complete set.
Basically, things are coming along well, with one exception. I. Hate. The. Seating. Chart. We have enough people from very different groups that we really do need to have a seating chart. I just wish there was a magical computer program to do it for me. There are a lot of natural groups of 6 and 7 and 9. Our tables seat 8. Yeah. And there are 5 teenagers, who all want to sit together (I made the mistake of asking 2 of them yesterday). But which 3 adults get stuck sitting at the teenager table? I mean, 3/5 are pretty with-it, interesting 16 year olds, but still (the other 2 are 13...I'm not implying that they are not with-it or interesting). Grrrr....
I guess I've had a relatively stress-free planning process thus far. Now is the time to kick it into high gear. Or some other vaguely sports related metaphor.